This is a real hotel website that I found. I thought it was hilarious so I put a few pieces of the website here...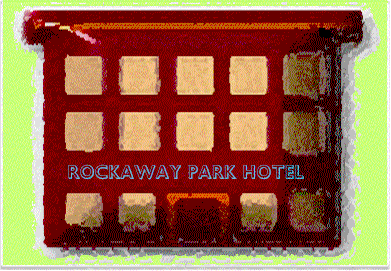 Rockaway Park Hotel, standing since 1913. This graphic looks nothing like our building. It's better. The graphic.
---
How best to describe our establishment sometimes referred to as the 'Norman Bates Memorial Hotel'? It has been said that Basil Fawlty's management style would be an improvement.

Long time residents of the Rockaway Peninsula marvel that we are still here, going strong. Just what is it that attracts anyone to stay at our SRO (Single Room Occupancy) Hotel? It certainly isn't Sidney! It must be because our rates our so cheap!
You certainly can't expect much else in terms of endearing qualities. You do a get a clean room, a pedestal sink, a dresser, perhaps a mirror and usually a television that works reasonably well. We are often asked about cable. What is that?
Can one expect heat and hot water? Yes, of course, plenty of it in winter and summer. Ceiling fans are standard. Along with the fluorescent lighting, they help to keep the rooms cool!
Phone service? In the lobby, unless of course you are a long term resident and order it yourself from the local phone company. Room service? Not likely, except to turn the circuit breakers back on. Extra towels? Towels are a touchy subject. Toilet paper? After a caliper measurement, no problem.

Seriously, if you need a cheap place to stay or are in search of an ascetic experience which will serve to to enhance your appreciation of home, spouse and children, try our Rockaway Park Hotel.
After all, we are only one hundred yards from a beautiful white sand beach. We offer free parking in our adjacent lot. We have extra heavy heavy-duty desk clerks for your protection and amusement.

Manhattan (the Big Apple) is only one hour away by subway, conveniently located on our street. We have bars and restaurants, a Laundromat, a firehouse, Blockbuster Video, Wendy's (great for the kiddies!), and of course a BIG FREE BEACH (topless permitted, Europeans!). Remember, Woody Allen chose this locale for Radio Days. Of course, he didn't actually stay here, but he did rent our parking lot for his equipment! Thanks, Woody, we were able to pay our real estate taxes that year because of you.
Reservations? We're sure you'll have lots of them once you arrive, but don't worry, be happy. We are. Collect calls not accepted.
STAFF BIOS
Sorry, can't publish bios or show pics (high turnover, outstanding warrants).
Please contact manager if you would like to volunteer or work for low pay - we need you.
AMENITIES
Rest assured, very few.
(If you wish to visit the complete site please go to www.cheaphotel.com )